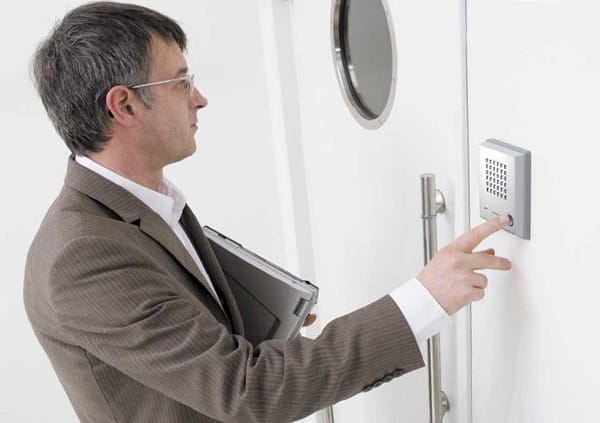 We assembly of intercoms and intercom systems. Most often, these are digital intercoms that effectively replace analog intercoms. The digital intercom can be freely integrated, e.g. with a telephone exchange. Such integration will allow you to operate the intercom using a telephone instead of a classic intercom handset. Integration with the smart home system, will allow you to remotely control people entering through the gate and communicate with them.
The type of intercom installed depends on many factors, such as: the possibility of making appropriate wiring, the distance between the gate and the property, and the required functionalities. The width and type of post on which the talk panel will be placed, the size of the installation and possible integration with other systems are also taken into account.
Wired intercoms
As the name says, these are systems in which all elements are connected by wires. Wired intercoms require appropriate wiring. Depending on the degree of advancement and technology (digital or analog intercoms), the wiring can be two or more wires. In the case of wired intercom systems, the inability to make the wiring may be a limitation that will force you to switch to a wireless intercom system. The advantage of wired intercoms is high resistance to radio interference and the possibility of installation in facilities with long distances and difficulties in spreading the radio signal.
Wireless intercoms
Wireless and radio intercoms do not require additional building wiring. The individual elements communicate with each other by radio. Components such as headphones or a talking panel at the gate require only 230 V power supply. Thanks to this solution, we can move the handset to any place in the house with an electrical socket. Wireless intercoms will prove themselves in small buildings, where radio communication between the handset and the talking panel is ensured. Distance will be the limitation here
IP Network intercoms
This new type of wired intercoms is recommended especially for large companies, where communication between components takes place via a traditional LAN network. This form of signal transmission allows for any scalability of the intercom system. We use the existing network cabling for this purpose, which reduces the cost of installation. IP intercom systems allow for easy management using the application and integration with other network installations, such as access control or the monitoring system. IP intercoms are ideal for office buildings, factories and residential complexes. They enable control of the intercom from a mobile phone.
Intercom service
As part of our services, we run a service of intercoms and service of intercom systems. Regardless of the type of installation, we perform periodic inspections of intercoms, maintenance, and in the event of detecting or reporting a fault in the intercom, we immediately start repairing it.