Smart alarm systems for everyone. We base alarm installations on alarm control panels of companies; Satel, DSC or Paradox, giving you the option of controlling the alarm system from your phone or tablet. We make installations in houses, companies or plots. We protect car parks, warehouses, nurseries, kindergartens and open areas. Depending on the needs, we use appropriate types of alarm sensors. We perform alarm system installations with the utmost care and attention to detail.
Installation of the alarm system begins with the recognition of threats and weak points of the facility. We make the installation plan and the selection of sensors. For example, we will offer pet-resistant sensors for rooms with dogs, and an additional sleeping gas sensor for bedrooms. Each alarm installation is different and can be individually expanded with a notification system or integrated with other security systems or a smart home installation.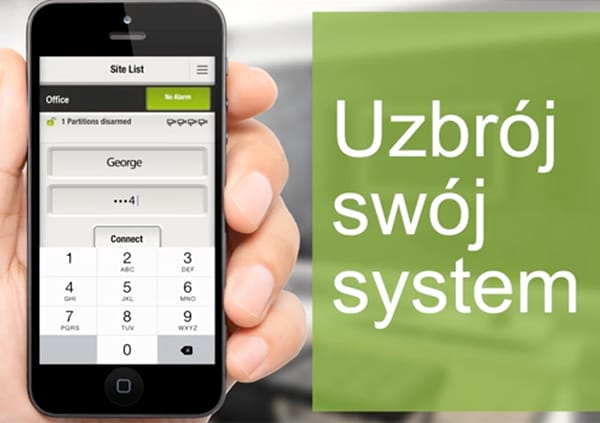 Home alarm system
Alarm systems installed in houses, cottages or plots will differ significantly. A simple alarm system for a plot may not be sufficient as a alarm system for a single-family house. Differences may result from the lack of availability of some functionalities in small installations or the convenience of use. In residential houses, we are increasingly installing intelligent alarm systems with roller shutters, lighting or heating, and even opening the entrance gate. Smart alarm systems allow you to remotely control switching on as well as control other home devices from a mobile phone. We can also program different system responses to different alarms. For example, when a flood detector is activated – the system will cut off the water in the entire building. If the smoke detector is triggered, the system can send a special fire alarm to the alarm monitoring center. There are many possibilities, regardless of whether it will be a wireless alarm system or a classic, wired one. Particularly noteworthy are alarm systems integrated with cameras. The cameras can be placed in motion detectors or constitute an independent monitoring installation.
Alarm system for the office and company
Alarm systems for an office or company should be easy to use. An alarm system for a small office will usually consist of several detectors and a control panel. The situation is different in larger companies, where there are many rooms, departments or warehouses. Company alarm system can have several alarm zones activated independently. The zones can have a set time schedule to arm the system depending on the needs, e.g. when people can stay in them. For example, one zone will be an office open until 16:00 and the other a warehouse open until 20:00. In more complex alarm systems, combination of the alarm system with access control is often used. Such functionality is created by means of special encoders and proximity readers cooperating with the alarm system. In special cases, the alarm system is integrated with an independent access control and working time registration system.
Service of alarm systems
We provide maintenance services for alarm systems of companies; Satellite, DSC and Paradox. As part of the maintenance service, we set up an alarm system service book for the protected facility and carry out periodic maintenance. These are preventive measures to keep the alarm system in constant working order. Service of alarm systems is also repair of alarm systems. In the scope of repairs of alarm systems, we replace damaged alarm control panels, sensors, and repair wiring. We periodically make the necessary adjustments and corrections to restore the alarm system to proper operation.